Kamalanagar, January 11, 2019: Parva a remote strategic village of Chakma Autonomous District Council close to the border of Myanmar and Bangladesh finally got a motorable bridge across river Toijong connecting Parva-II and Parva-III with Parva-I and Parva-IV. The bridge is a culmination of effort intiated by Dr. Arun T. former Deputy Commissioner, Lawngtlai District and carried forward by his successor Pu. N. Chakkhai, incumbent DC, Lawngtlai. .
Way back in 2017 Dr. Arun T. after being posted as Deputy Commissioner of Lawngtlai District received report of how the people of Parva-I and Parva-IV remain cut off during the rainy season for want of a permanent bridge. This motivated him to work a bridge across the river.
He roped in NABARD for fund provision and Rs. 5 lakh was sanctioned for a motorable bridge under Rural Infrastructure Promotion Fund.
In the meant time the bailey bridge across river Hawrong on the way from Lawngtlai to Diltlang was being replaced by newly constructed concrete bridge. Dr. Arun T. taking the bailey bridge a preferred option than a simple motorable bridge requested the BRO officials to dismantle the redundant bailey bridge and reuse the materials for construction of the bridge across river Toijong at Parva. The BRO cooperated with the proposal and built the bridge.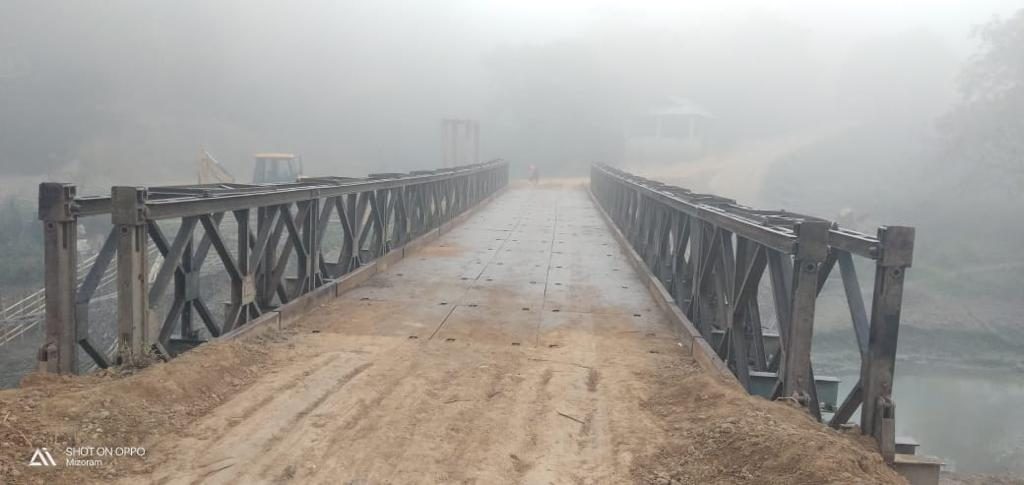 The Rs.5 Lakh sanctinoed by NABARD was utilised in construction of the foundation on both side of the bridge. Pu. N. Chakkhai also supplemented with some fund out of Disaster Management to get the bridge completed finally.
The bridge is significant because of its strategic location at a village near the trijunction of Indo-Bangla-Myanmar border. It will also facilitate easy movement of security forces like the BSF and the Assam Riffle who have bases at Parva.