Kamalanagar, August 30, 2023: Dg. Molin Kumar Chakma, Adviser to the Chief Executive Member (CEM), CADC, graced the closing ceremony and prize distribution event of the Inter-School Football tournament. The week-long tournament organized by the Mizoram Chakma Students' Union (Central), commenced on 23rd August, 2023. A total number of 46 teams from 19 schools participated in the event. Dg. Buddhangkur Chakma, Sr. FAO, and Dg. Kulendra Bikash Chakma, Information & Public Relations Officer, were also present alongside other distinguished officials of CADC and heads of participating institutions.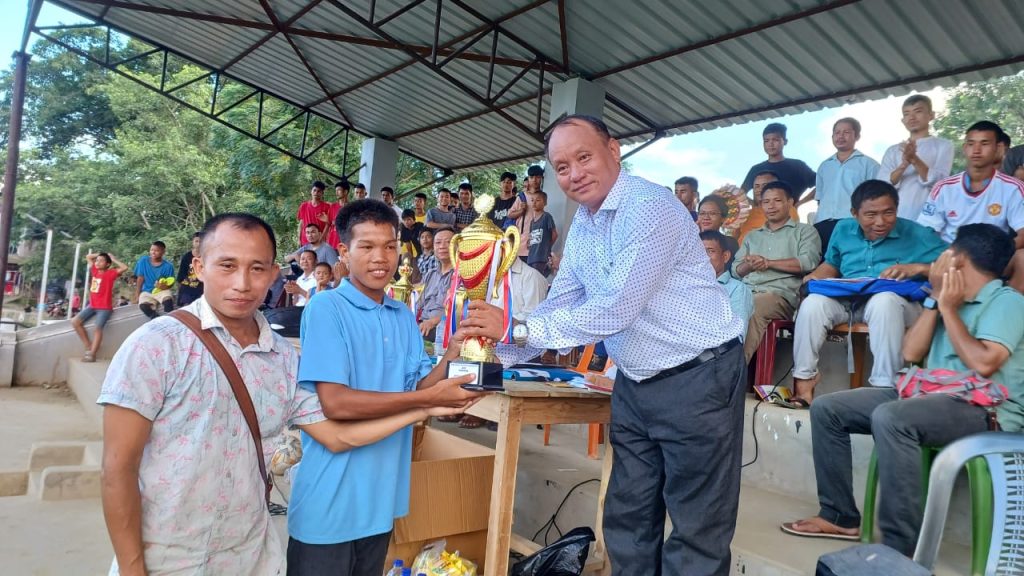 In his address as the Chief Guest, Dg. Molin Kumar Chakma extended his gratitude to the Mizoram Chakma Students' Union (Central) for taking the initiative to organize this remarkable tournament. He emphasized the significance of embracing sports alongside formal education for the holistic development of students. He also stressed that for achieving success, students must possess three essential qualities: courage, interest, and passion. Dg. Chakma further advised the young participants to engage in regular self-introspection of their actions. He encouraged them to discard negative influences and adopt positive habits.
Dg. Buddhangkur Chakma, the Guest of Honour, took the stage to deliver an inspiring speech. He offered valuable advice to the students, urging them to delve within themselves, comprehend their capabilities, and set clear life goals. Drawing a metaphor, he likened an individual without a goal to a boat without a radar in a big ocean. Dg. Chakma cited the illustrious example of late Dr. APJ Abdul Kalam, renowned as the "Missile man of India," who through his focused efforts, enabled the nation's remarkable strides in science and technology. He emphasized that with a well-defined objective, every achievement becomes attainable.
The inter-school football tournament witnessed intense competition across three categories – Higher Secondary School, High School and Middle School. The results of the tournament are as follows:
Higher Secondary Level Boys:
First Prize: Longpuighat Higher Secondary School
Second Prize: Nirvan Residential School, Kamalanagar
Higher Secondary Level Girls:
First Prize: Duloram Public Higher Secondary School
Second Prize: Govt. Kamalanagar Higher Secondary School
High School Boys:
First Prize: Udoygiri Higher Secondary School
Second Prize: Agomoni High School, Longpuighat
High School Girls:
First Prize: Duloram Public Higher Secondary School
Second Prize: Nirvan Residential School, Kamalanagar
Middle School Boys:
First Prize: Bajeisora Middle School
Second Prize: Govt. Middle School, Kamalanagar-I
Middle School Girls:
First Prize: Udalthana Middle School
Second Prize: Bajeisora Middle School