Kamalanagar, 19 April, 2021: An emergency meeting on the alarming covid situation in Chakma Autonomous District Council triggered by spike in the number of covid positive cases was held today at the CADC Chief Executive Member office under the chairmanship of Dg. Durjya Dhan Chakma, CEM, CADC.
The meeting was attended by Pu S. Kaptluanga, SDO(C), Chawngte, MDCs of CADC, Dr. Arun Kumar, MO, CHC, Chawngte, Dr. Rinisha Chakma, MO, CHC, Chawngte, Dr. Ujana Chakma, Dr. Jyotir Moy Chakma, President, CYCA, Dgb. Monica Chakma, President, CMS, Dg. Jagadish Chakma, President, MCSU and officials of CADC.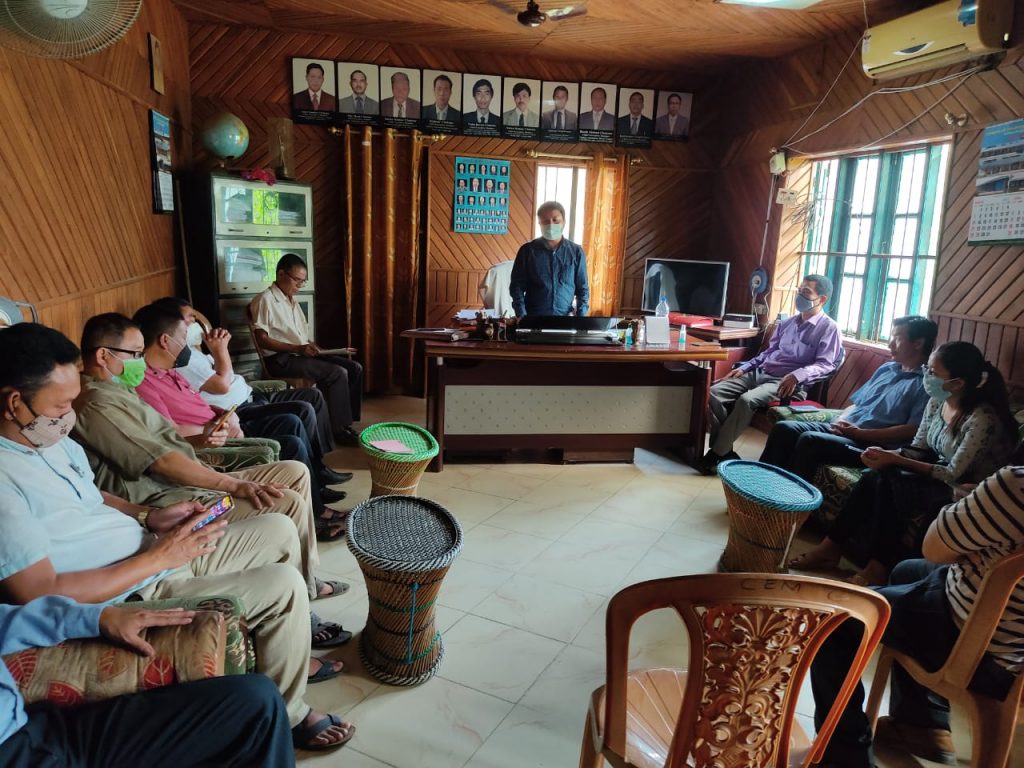 The meeting has been necessitated to evaluate the need for setting up of a Covid care facility at Kamalanagar due to emergence of many positive cases in the last three days mostly from Barkolok village, some 40 km from Kamalanagar.
The CEM, CADC in the meeting informed that the DC, Lawngtlai over telephone has requested him to evaluate the feasibility of setting up of a Covid care facility at Kamalanagar to supplement their effort in dealing with rising covid cases in CADC.
Pu S. Kaptluanga while supporting the need for a Covid care facility at Kamalanagar given the current prevailing situation he has stated that there will be huge involvement of cost beside the need to reinforce the present medical staff strength of CHC, Chawngte. He has said that a Covid care centre is no less than a mini hospital.
Dr. Rinisha Chakma and Dr. Ujana Chakma enlightened the meeting with the basic requirements in setting up of a covid care centre and how they are operated.
It was decided that if requisite medical personnel and medical supply including arrangement of ambulance can be provided by the state government the proposed covid care centre can be set up with support from CADC and public donation.
Dg. Durjya Dhan Chakma, CEM, CADC said that a CEM Relief Fund will be created to support the combat against Covid-19. He informed the meeting that a legislature party meeting will be called tomorrow to explore availability of fund from different sources.